CHRIS DUNCAN – 12 SYMBOLS
EXHIBITION IMAGES | PRESS RELEASE | ARTIST PAGE
56 HENRY STREET | NYC | Opening reception: 7 – 10 pm, Thursday, May 5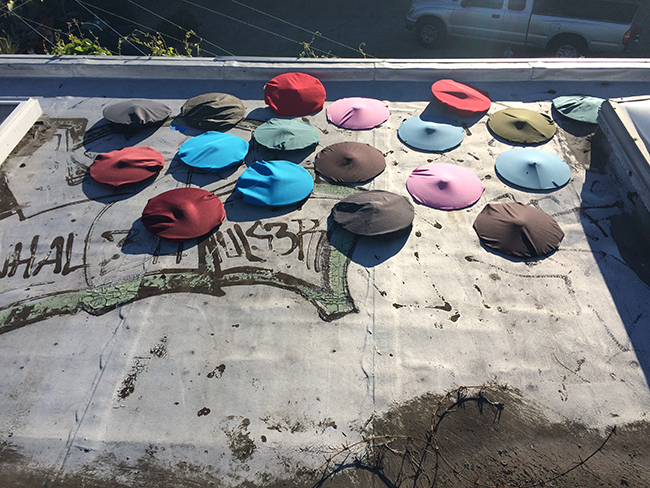 Halsey McKay is pleased to present 12 Symbols, and exhIbition of new works by Chris Duncan at 56 Henry Street, New York. Duncan will debut a new sound piece to accompany his sun paintings for the first time.
The twelve sun exposure paintings on view each represent a monthly cycle culminating in a full moon. To make the works, fabric was wrapped around 14" drum/percussion cymbals and placed on a roof top in Oakland, California for a six month interval. The works were then harvested on a full moon, washed, and stretched. During this exposure time, Duncan began experimenting with sound. By taking learned behaviors in image making- the repetition and accumulation of simple gestures to the point of transcendence- he has built an open ended/improvisational sonic language comprised of tones generated from tuning forks, harmonicas, percussion and field recordings of natural forces. ////////// is a 4-channel, continual piece that pulls from a library of hundreds of sounds made and collected by the artist and built to never play the same composition twice.
Chris Duncan, born 1974, holds an MFA from Stanford University and a BFA from the California College of Arts and Crafts. Duncan's work has been included in recent exhibitions at The Berkeley Art Museum, Berkeley, CA; Museum Of Modern Art, NY, New York; De Rosa Preserve, Napa, CA; Cooper Cole Gallery, Toronto, Canada; V1 Gallery, Copenhagen, Denmark; and Halsey McKay, East Hampton, USA. Duncan's work is held in the collections of the Museum Of Modern Art, New York, NY; SFMoMA, San Francisco, CA; The Kemper Art Museum, St. Louis, MO; Berkeley Art Museum, Berkeley, CA and the Arsenal, Montreal, Canada. Outside of his studio practice he organizes events and runs a small artist book press and record label called LAND AND SEA with his wife. Duncan currently lives and works in Oakland, California.