CHRIS DUNCAN – PATTERNS & LIGHT
EXHIBITION IMAGES | WORKS | PRESS RELEASE | ARTIST PAGE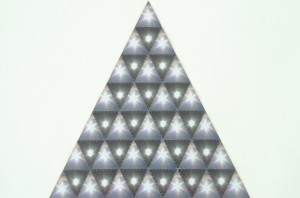 Halsey Mckay Gallery is pleased to present Patterns and Light, an installation of recent works by Oakland based artist Chris Duncan. For his first exhibition with the gallery the artist continues his ongoing explorations of light and perception as metaphysical metaphor. Duncan's installation presents several distinct yet interconnected works, including sewn photo collages, taped works on paper, string and window installation and a painting.
In Duncan's Obstructed Images the artist layers strapping tape on modern art text book pages. The historical images seem to flicker out of focus, erased by the white lines of the striped tape and re-emerge as the viewer's gaze shifts. Similarly, the sewn together photographs of the sun and moon act as both images of direct representation and abstracted patterning in a literal translation of the exhibition title.
Light and the sun's rays are themselves employed as a material in two interpretations of the ROY G BIV color spectrum. As natural light shines through translucent films onto mirrors, reflective papers and triangular wooden shapes create a rainbow of light, which emanates from the bay windows and dances throughout the white space of the gallery. Covering the entire back wall a taught burst of string makes a colorful semi-circle stretched to a center point on the floor. The circle is completed as it is reflected in a mirror along the base of the wall, seeming to extend into a depth well below the ground.
Chris Duncan was born in Perth Amboy, New Jersey and now lives and works in Oakland, California. An MFA candidate at Stanford University the artist has been in recent exhibitions at Baer Ridgway, San Francisco, The Berkeley Art Museum, Eric Firestone Gallery, East Hampton, Morgan Lehman Gallery, New York. Recent reviews of the artist's work have appeared in Art Forum, the New York Times and Art In America.  His works are held in the collections of the Museum of Modern Art, The JP Morgan Chase Collection, The Berkeley Art Museum and The Progressive.