DAVID KENNEDY CUTLER – OFF SEASON
LIVE STREAM | EXHIBITION IMAGES | DISPATCHES | PRESS RELEASE | ARTIST PAGE
David Kennedy Cutler will survive the winter at Halsey McKay Gallery. For his exhibition, titled Off Season, Cutler intends to reflect upon the unique East Hampton venue, where experience of the local culture can vary by location, occupation, and season.  For his residency at the gallery he will swap the stereotype of the Hamptons as leisure destination for an alternate universe where he is the sole resident, laboring to sustain himself during the coldest months of the year. The exhibition will run from January 13 – March 24, with a closing reception to be held in the spring to assess how the artist has fared during the course of the winter.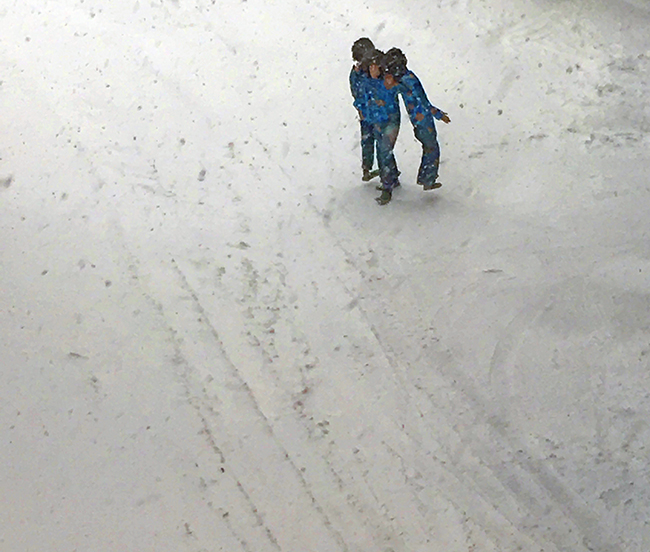 For the exhibition Cutler will reprise his role as a living image-sculpture, which was used to activate his recent solo exhibitions at The Center for Contemporary Arts Estonia, and Derek Eller Gallery, New York. Cutler's avatar (a digitally produced skin-suit depicting the artist's idealized self) will haunt the unforgiving winter landscape and perform a series of arduous labors. This "second self" will produce sculptural versions of the basic requirements for survival.
Cutler has set his goals in a 10-point list, reflecting the 10-week run of the exhibition:
1. Shelter
2. Food
3. Tools
4. Clothing
5. Warmth
6. Companionship
7. Companionship
8. Companionship
9. Companionship
10. Companionship
Each week, Cutler will transmit his endeavors remotely, viewable by live-stream web camera on the gallery's website, as well as social media platforms.
Sign up for weekly email updates:
Or follow on Instagram:
Generous support provided by Foundation for Contemporary Arts Emergency Grant.
David Kennedy Cutler has mounted recent solo exhibitions at Derek Eller Gallery (2017) at the Center for Contemporary Arts, Estonia in partnership with Art in General (2016). He has recently been included in exhibitions at Cooley Gallery at Reed University, Portland, OR; The Ruth and Elmer Wellin Museum of Art at Hamilton College, Clinton, NY; Locust Projects, Miami, FL; Lyles and King, New York, NY; and the Philadelphia Photo Arts Center, Philadelphia, PA. This will be his first solo exhibition with the gallery. He is represented by Derek Eller Gallery in New York.