HUMAN DRAMA – curated by Denise Kupferschmidt
WORKS | EXHIBITION IMAGES | PRESS RELEASE
Gina Beavers, Ariel Dill, Joanne Greenbaum, Peter Mandradjieff, Leigh Ruple, Jeffrey Tranchell, Johannes VanDerBeek
March 2 – 31, 2013 | Gallery Hours: Saturday – Sunday 11 – 6 pm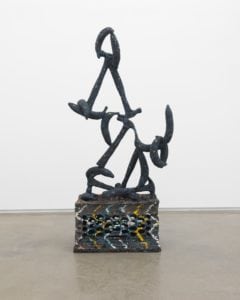 Image: Johannes VanDerBeek
Meditations on a way to live
The orange sky in the night glows over the train tracks, going north.
Just then, a cat runs into its tail
I've never felt warmer than I did that night.
The rain was turning into snow, and
Glistened.
Place by the sea, that's where I wanna be
Love is the thing in time that listens
I can't remember the feeling it is like a silver glove
I live by this acquaintance.
I decided to write a poem as a contribution to this show I've curated. It felt appropriate, since the works presented in Human Drama are so full of flourish. It seemed right to begin any statement about them with something poetic. These artists are moving towards their personal truths along paths that are inconstant and unworn. The availability of each practice exists in varying degrees. Their media is invigorated and instilled with what happens in the environment of their practice: rituals, rooms, dreams, habits and patterns, everyday stuff. Materiality informs the discussion, to be unresolved in moment to moment experiential investigations of the artwork, or redefined in the making. They are living with making art. They are living and making art. They are making art out of living.
Jeffrey Tranchell builds artworks out of "store-bought" materials that hover between medium and product. He layers the quotidian yet aspirational preferences of the general populace and the aesthetics of home and handy work over more traditional vocabularies of abstraction and painting. The organic forms in Ariel Dill's paintings ignite her canvases with sensory experience as she mingles with different interpretations of form. She forgoes a singular style in favor of renegotiating her approach to circumvent resolution and prioritize a continuous exploration of painting. Joanne Greenbaum similiarly embeds her methodology within paintings and sculptures, inviting the daily experience of artmaking to generate a consistently new origin from which to formally explore abstract painting and new materials.
In Gina Beavers' three-dimensional sculpted paintings, she lifts and recreates subject matter from television, blogs, printed matter, and other sources. She creates a narrative between realities of contemporary art and cultural media, while pondering the artist's relationship to them. Johannes VanDerBeek looks to his immediate environment for inspiration and materials, transforming and masking the mundane identities of the objects around him as he works, while instilling totemic associations. Leigh Ruple combines geometric abstraction with figuration, confronting gender roles as she allows her female subjects to be stand-ins for herself, subverting the ideals of Modernism. Peter Mandradjieff imposes templates and systems born out of idiosyncratic studio practices such as laying the canvas flat on a tabletop or the studio floor, allowing tenuous moments of beauty and balance when intention and discovery overlap.
Recently named in Modern Painters' "100 Artists to Watch," Denise Kupferschmidt has had solo exhibitions in Chicago, Boston, and most recently in East Hampton with Halsey McKay Gallery. Her work has been included in exhibitions in New York at Nicole Klagsbrun Gallery, Marvelli Gallery, and Eleven Rivington, as well as at Western Exhibitions in Chicago, and CAVE in Detroit. In 2010 she was featured as a NADA Emerging Artist in The L Magazine. Kupferschmidt was recently featured in the Next Wave Festival at the Brooklyn Academy of Music where she installed two painted murals in the Peter Jay Sharp Building's lobby. Denise Kupferschmidt is co-organizer, with Joshua Smith, of "Apartment Show", a series of roving group shows featuring artists in New York City.