JOSÉ LERMA & EDDIE MARTINEZ
WORKS | EXHIBITION IMAGES | PRESS RELEASE
August 11-29, 2012  | Opening reception for the artists, Saturday August 11, 6-8 pm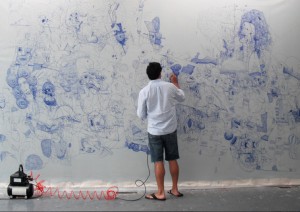 HALSEY MCKAY GALLERY
is pleased to present a two-person exhibition of new works by José Lerma and Eddie Martinez. Both artists use creative material approaches to painting and its history as the starting point for their practice. Inhabited by voracious marks and a motley cast of characters, their works display the political histories of nations imagined and conflicts all too real, through the interplay of their denizens.
José Lerma daydreams his line across the canvas, forming sinewy figures of colonial bureaucrats and topographical landscapes, occasionally covered with the silk of fallen parachutes. Eddie Martinez sprays, scrapes and scratches oils and enamel onto the picture plane in an exorcism of angst. Both artists extrapolate figure and form beyond the point of recognition yet hold a firm grasp on representation. A doodle may appear as a Twombly-like scribble, a coin or a statesman. A circle of crimson may act as an apple, a hat or a burst of pure abstraction. The looseness of rendering and ambiguity of definition grants entry into our own imaginations through the visions of this pair.
Lerma held a studio in East Hampton last summer and works between New York, Chicago and Spain. Martinez lives and works between New York and East Marion on the North Fork. While both artists have exhibited extensively in museums, galleries and institutions across the world this marks their first effort on the East End.
Eddie Martinez's recent solo exhibitions have been at Peres Projects Mitte, Berlin, Schwarz Contemporary, Berlin, DE; Patricia Low, Gstaad, CH; Sorry We're Closed, Brussels, BE; Galerie Mikael Andersen, Copenhagen, DK; Seomi & Tuus, Seoul, KR; Galleri Loyal, Stockholm, SE and Zieher Smith Gallery, New York, NY. Martinez's work has been incuded in group exhibitions at The Saatchi Gallery, London, UK; Garage Center For Contemporary Culture, Moscow, RU; Untitled; Greenberg Van Doren; Clifton Benevento; The Hole, New York, NY among others. He has been featured in Modern Painters, ARTINFO, The New York Times, Interview Magazine, The New York Sun, The Boston Globe, Boston Magazine, ArtReview, Tokion Magazine, Loyal Magazine, The Brooklyn Rail, Art in America, The Journal, Artkrush 54, and Copper Press
José Lerma holds a BA from Tulane University and his MA and MFA from the University of Wisconsin-Madison. He has attended residencies at CORE the Museum of Fine Arts Houston, The Skowhegan School of Painting and Sculpture, ME and the Fortaleza 302 Residency Program, San Juan, PR. He has had solo exhibitions at Andrea Rosen Gallery, New York, NY; CAM Raleigh, NC; Xavier Huffkens Gallery, Brussels, BE; Galeria IL Capricorno, Venice, IT; Arario Gallery, Seoul, KR; Galerie Loock/Wohnmaschine, Berlin, DE; Green Gallery East, Wilwaukee, WI and Galeria Marta Cervera, Madrid, SP. His work has been included in group exhibitions at Lehmann Maupin, New York, NY; Milwaukee Art Museum, WI; Museum of Contemporary art Detroit, MI; Museum of Fine Arts Houston, TX; Deste Foundation for Contemporary Art, Athens, Greece and elsewhere.