NO GROUND BUT SAY GROUND
EXHIBITION IMAGES | WORKS | PRESS RELEASE
BIANCA BECK, LISA BECK, JOSH BLACKWELL, JOSH BRAND, PATRICK BRENNAN, CHERYL DONEGAN, MICHAEL GOLDBERG, KIM GORDON, ROB HALVERSON, ROBERT JANITZ, LINDA MATALON, RAY PARKER, PATRICIA TREIB, JULIA ROMMEL, YORGOS  SAPOUNTZIS, VALERIE SNOBECK curated by JOE FYFE
March 1 – 30, 2014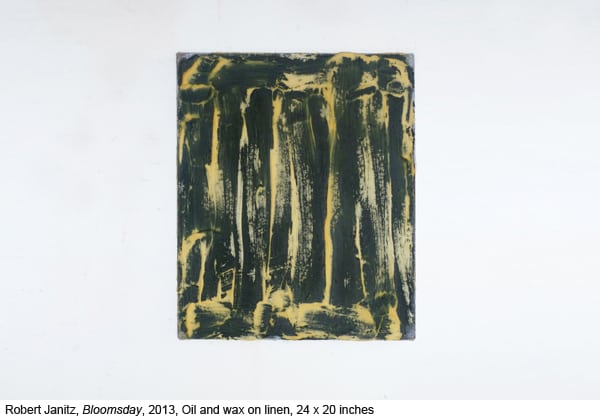 When the 'letters' came out: Samuel Beckett the gardener. Imagine him digging in the earth, hands buried in dirt. Worms.
Silence and solitude… gardening and walks… I feel this evening that that would suit me…and would suit me the least badly possible.
On language: a veil that must be torn apart in order to see what is behind it.
fragment from Hubert Damisch,
[Dubuffet] liked working in the thickness of the ground—I mean the tableau—to reveal what is beneath: scratching the paper, incising and beating up the substance, skinning it and whipping it up to reveal layers below.  (Mick Finch translation)
this surface as a material entity in itself. [Finch]
a.  the picture-object. b.  the idea of language as material and the act of writing as struggling with a material entity.  c. language as substance, with the thickness of a real body.  The ground of the picture.
Exhibition called No Ground But Say Ground (from Beckett's Worstword Ho.) Idea of the picture (or painting or photograph) as a physical place dismantled, dug into or extended.
[B]: I turned toward an abstract language however I have tried not to concretize the abstraction not to give it another formal context.
The exhibition: contemporary artists use what is called the ground as a beginning place from which to establish a field.
like gardening: the turning over of the ground of the picture, not to discover any interior space but to rather confront and pervert the outside of the ground.
letters to Georges Duthuit, in one Beckett discusses abstraction… about the painter Bram van Velde:
a break with the outside world entails a break with the inside world…what interests me is what lies beyond the outside-inside…
Marina Warner: the nervous and visceral immediacy that [B.] craved.
He wrote about painting:
L'espace vous intéresse? Faisons-le craquer.
Le temps vous tracasse? Tuons-le tous ensemble.*
*You are interested in space? Make it crack.
You are tormented by time? Let's kill it together.
Bianca Beck's earth colors, packed impasto; gouging. Lisa Beck the partially blackened mirror, stripes as rupture Josh Blackwell the figure ground transformed plastic bag yarn Josh Brand, the photograph itself is manipulated, scored, spilled on, Patrick Brennan, painting as a site that can be actively de-territorialized; Cheryl Donegan, language is a labyrinth—dim patterns form and obscure meaning. Beckett's writing shuttled between English and French in order to try and stay outside of known patterns of words and thoughts. Michael Goldberg's digging of the surface Kim Gordon, the fir bough as marker, spray paint as a given structure that supports conventional figurative representation, the makers subjectivity, or some reductive principle or formalist program Rob Halverson unearth its languages through aspects of its history as an object or a sign or other criteria Robert Janitz, The space of the painting is a mysterious universe, a body of sinew, fat. Linda Matalon, puncture and distress the surface and confound the space of the drawn image. Ray Parker trade the function of the mixing palette for the painting ground. Patricia Treib, conventional motif is subjected to intense studiousness of gestural fragments in order to delimit depth Julia Rommel, the concept of the ground as a problematic site: it is literalized, alluded to, destabilized or compounded. Yorgos Sapoutsis enfold photographically-derived material, wind cloth, shape sheet metal. Valerie Snobeck The utterance No Ground But Say Ground carries the suggestion that there is nowhere to locate oneself, nowhere to stand.
Some comparisons: The: but rather. The works selected exemplify In a. Several works, Some While elsewhere Others