TED GAHL – BEAUMONT SUR MER
FEBRUARY 26 – APRIL 8 | 79 Newtown Lane, East Hampton, NY
***PLEASE NOTE A LATER RECEPTION WILL BE HELD ON MARCH 25***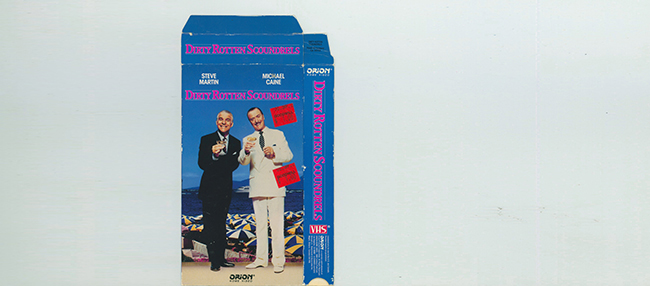 Halsey McKay is pleased to present Beaumont sur Mer, Ted Gahl's fourth solo exhibition with the gallery. Inspired by the 1988 Frank Oz comedy, Dirty Rotten Scoundrels, the title of the show is derived from the fictitious resort setting where the film takes place. In several large-scale works, Gahl continues to investigate the parameters of a signature painting practice and the fine line between abstraction and representation. Gahl employs both gestural mark, and the figure, in modes ranging from on-the-fly gists, to loose recreations of drawings from his past.
In one work, a cartoon mosquito nervously bumps up against a windowpane, lost in a murky room of dark, shuffling figures. Through gridded out planes and framing, in slices of white and black oil, the viewer is placed between the painting and the flailing chaos on the other side. In another work, the silhouette of a wandering man walks directly into a storm of aggressively applied oil paint reminiscent of historical action painting. The cloud of paint signals the confusion of the day ahead, the onslaught of noise, media, and obstacles beyond the walls of the home or studio.
In an exercise more specifically related to the film where the show takes its name, Gahl commisioned a painting of the VHS cover by an unnamed family portrait painter in the Midwest. Alongside the outsourced work, the artist has rendered his own version of the cover, complete with faded price stickers. The juxtaposition of the two works, examined together, highlights differences in approach, technique and materials when realistic painting is taken to task.
The exhibition in East Hampton will run concurrently with a show of smaller works at our 56 Henry Street location in Manhattan. Titled Mind Reels, the show will focus on recent 10 x 8 inch paintings. While fully resolved unto themselves, many have served as starting points for larger works.
TED GAHL | MIND REELS
MARCH 3 – APRIL 16 | 56 Henry Street, New York, NY
OPENING RECEPTION, FRIDAY, MARCH 3, 6 – 9PM
Ted Gahl received his BFA from Pratt Institute in Brooklyn, New York in 2006 and his MFA from Rhode Island School of Design in Providence, Rhode Island in 2010. Solo shows have been with Galleri Jacob Bjørn, Aarhus, Denmark; MIER gallery, Los Angeles, CA; Zach Feuer Gallery, New York, NY; DODGE Gallery, New York, NY; Retrospective, Hudson, NY; and with Halsey McKay. Group exhibitions include Freddy, Harrisburg, NY; Rod Barton, London, England; Romer Young Gallery, San Francisco, CA; V1, Copenhagen, Denmark, and The Journal, Brooklyn, NY. Gahl is represented by Halsey McKay Gallery. He lives and works in Los Angeles, California.